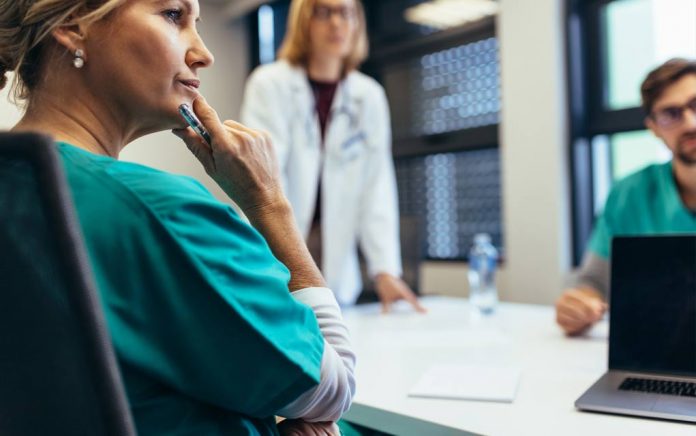 Earning a medical degree can take years of training, both inside and outside the classroom. This may seem like a long time, but it's important because of the responsibility that comes with having a medical career. If you've passed over careers in medicine, assuming you can't afford the time and dedication it takes to earn a degree, there may be another option. Study at an online school and learn from home to jump into any one of these five great healthcare careers.
Quick Read:
If you think you have to spend hours of your life in a classroom to earn a medical degree, think again. There are numerous medical degrees you can pursue right at home online, without having to spend the time and energy on traditional classes. You can take online courses in medical careers like nursing, respiratory therapy, healthcare administration, medical coding, and dentistry, gaining just as rich an education as you would in the classroom. Read below to find out more details about these online degrees.
Discover five degrees in medicine you can start pursuing from the comfort of your own couch.
Nursing
Nurses are so commonplace that we often take them for granted, but they provide a very important service. Registered Nurses (RN) often take on important tasks like giving treatments, offering support to patients and families, and helping doctors with diagnoses. They also provide critical patient care oversight.
To become an RN, you'll have to train at a clinic or hospital and then pass the national exam for the career. But you can start out by earning your Associate's degree or Bachelor's of Science in Nursing (BScN) from the comfort of your own home. It's a fantastic way to ensure you have time for the other responsibilities in your life while getting your education.
Respiratory Therapy
With a degree in respiratory therapy, you meet with patients who have trouble breathing and work with doctors regarding possible treatments. This is a great area of medicine to pursue if you enjoy dealing with patients firsthand. You can get the Bachelor's degree in respiratory therapy work you need online, but there are also two-year programs available if you're looking to start working in your field sooner.
Note: respiratory therapy is a promising industry for potential students. According to the Bureau of Labor Statistics, it's expected to grow by more than 20 percent before 2026.
Healthcare Administration
Healthcare administrators are the planners. They manage the services of medical departments, and sometimes, entire hospitals. Without them, most facilities wouldn't run as efficiently or smoothly. If you want a medical degree and you're a good leader, this is the career for you.
To pursue this career, you will need to earn at least a Bachelor's Degree. Fortunately, you can take most of your classes online. Once you graduate, most states require that you take an exam and become licensed, especially for specialty facilities. Healthcare administration is a fairly high-salary position, too, netting you almost $100,000 a year as of 2017.
Medical Coding
Another valuable medical degree you can get online is medical coding. Medical coders have a responsibility to keep medical records in order and transcribing them for doctors and insurance companies.
To become a Medical Coder, you need either Certificate, a Diploma, or a Bachelor's degree. Training on multiple systems and coding structures will make you more employable after graduation, as will diversifying your skill set with soft skills, like communication or business administration.
Is this career right for you? If you're good with numbers and have exceptional organizational skills, but prefer not to spend as much time with patients, it's a great choice.
Dental Assistant
If you have a specific interest in teeth, this may be your calling. Dental assistants are important because they handle duties like scheduling, recording patient history, and performing lab work. They also provide patients with cleanings and sometimes diagnose simple issues with the teeth when the dentist isn't available.
Not only is this a fulfilling career, but it doesn't take long to get into it. Depending on whether you receive a Certificate or a degree, your program may take you less than a year to complete.
These diverse degree options can give you the chance to have a career in the medical field. While you will likely have to complete hands-on training as part of these programs, you don't have to put your life on hold for classes when you take them online. You can start chasing your medical career dreams just by turning on your computer.