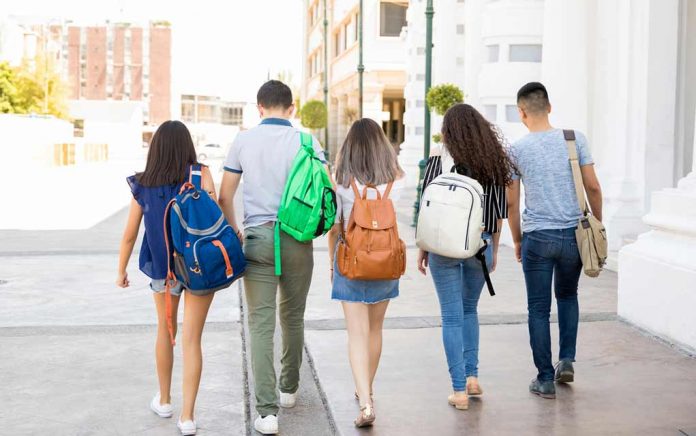 Textbooks can be a real pain in the back. To avoid putting too much strain on yours, use a small, lightweight backpack and limit how much you carry each day. When searching for a new backpack, look for spacious options with enough room to haul around books without adding unnecessary weight.
Other characteristics that help prevent back strain are S-shaped straps, which curve away from the neck instead of going straight up and down. Additionally, consider something that uses straps at the waist, which puts part of the load on the hips instead of the back. Need to get the weight off your back altogether? A rolling backpack is another great option.
L.L. Bean Ledge Backpack
This backpack by L.L. Beans hits all the marks. It isn't massive, which will help curb the temptation to overpack, but it's still roomy enough for the essentials. Additionally, the strap placement, padded back and waist buckle help distribute the weight to avoid unnecessary back pain.
The Ledge Backpack is available in orange, black, gray and a sapphire gradient. You can find it online on the L.L. Bean website for $69.95.
The North Face Recon Laptop Backpack
Priced at $98, this backpack is certainly an investment, but it's a purchase that will likely last you for years to come. The model is known for its comfortable design, making it easier to lug a laptop and textbooks for long periods. The gel-injected shoulder straps and padding on the back are placed just right for optimal comfort.
The Recon Backpack can be purchased through their website, where students can pick from a wide variety of colors including orange, storm blue and black.
The Kopack Slim Laptop Bag
On a budget? Look no further. This backpack by Kopack is affordable but doesn't compromise on comfort. Because of the unique shoulder straps, it can help make carrying your books and laptop safer and more comfortable. It has a reinforced zipper and is water-resistant, and it's designed so that thieves can't open it from behind while you're carrying it.
Find the Kopack Slim Laptop Bag on Amazon for $29.89, where it's available in five different colors.
Osprey Packs Daylite Plus Daypack
With 520 customer reviews and a 4.5-star rating on Amazon, this backpack is a student favorite. The Daylite Plus is built on the small side, which is great for individuals who are worried about the toll of lugging around a huge bag. This might not work for students who need to keep several textbooks on hand, but it's great for those who have less to carry.
Find the Osprey Packs Daylite Plus Daypack on Amazon for $64.85.
Targus Compact Rolling Backpack
Sometimes it's better not to wear a bag at all, and a rolling backpack makes that possible. Rolling backpacks can be expensive, but the Targus Compact Rolling Backpack is an affordable option with strong ratings.
Buy it online on the Targus website for $74.99.
The right backpack could last your entire college career. Do some research, ask around campus and don't be afraid to return any purchases that aren't the right fit. Your back will thank you for it.
~Here's to Your Success!
Copyright 2019, DegreeAuthorities.com