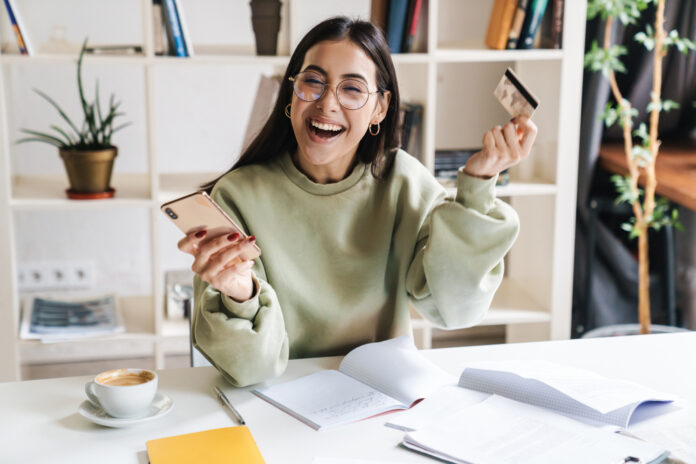 Credit cards can be a huge benefit financial life. A new year has arrived, as well as a chance for a fresh start. As a student, you may want to make a resolution to make smarter financial decisions with student credit cards. 
Many students graduate with some portion of loan debt to pay off. In fact, over 54% of undergraduates leave with one or more federal student loans. With both this percentage and inflation rates on the rise, now more than ever is the time for students to learn smart financial skills. 
While many associate credit cards with debt and credit score troubles. But there's a way to use a credit card to your advantage!
Here are some tips for students to find the best credit card types, scores, and the reward benefits available for each one!
Excellent for: Bonus cash back categories
This credit card is a great choice for students looking to buy a credit card for the first time! There is $0 annual fee for this card, and the only potential expenses you'll need to keep in mind of is the 19.24%-29.24% variable APR. 
Some cash reward benefits include:
You earn $50 back when you spend $100 within the first 3 months of owning the card

Unlimited 3% cash back on dining, entertainment, streaming services, and select grocery stores

$0 fraud liability on unauthorized charges

Earn up to $500 each year just for referring friends and family and they are approved for a Capital One credit card
Excellent for: First-time credit card users
This credit card is another great option for those who are looking to apply for their first credit card. This card does not require you to have a good credit score or any credit history at all in order to be eligible for the card.
Some benefits unique to this card includes:
Discover matches all the cash back you've earned at the end of your first year

Earn  5% cash back on everyday purchases from Amazon, local grocery stores, restaurants, and gas stations

You automatically earn 1% back from any purchase made using the card
Excellent for: Cash back rewards
This student card earns 2% back on as much as $1,000 spent on gas and food at restaurants, as well as 1% on everything else. This is a great option if you're looking for a card for frequent expenses like gas and food!
Some additional card benefits include:
Like the previous card,

Discover will match all the cash back you've earned at the end of your first year

0% APR on all purchases made within the first 6 months 

No credit history/score needed to apply
Excellent for: Easy-to-earn rewards 
With this card, there is no annual fee, and the regular APR is at the lowest percentage of all other cards listed, being set at 18.74%. 
This card is structured to give its users the opportunity to work their way up to a higher-tier credit card in the future. This can happen through the card's "Good Standing" rewards program. If qualified, this program will give a higher credit limit increase.
Additional card benefits include:
You earn $50 cash back after making your first purchase with the card within the first 3 months of having it

$20 cash reward for each year mark of you owning the card for up to 5 years

Earn a credit limit increase by making payments on time using the card for 5 months in a row. This offer is given only within the first 10 months of you owning the card

No minimum is needed to withdraw cash rewards earned. The rewards have no expiration date and will remain in your account until the account is closed
Excellent for: Cash back pairing
This card will 3% cashback on restaurants and 1.5% on all other purchases outside of bonus categories made using the card. 
Some benefits unique to this card include:
Intro offer:

Earn additional 1.5% cash back on everything you buy. This can give you up to $300 cashback by the end of the year!

You get 6.5% cashback when using this card for travel expenses

4.5% cashback on any drugstore purchases, dining at restaurants, and takeout from any restaurant

0% APR for the first 15 months of owning the card
When should you start building credit?
Having a good credit score will play a role in a number of areas of your life. It will impact your ability to apply for car loans, home mortgages, and future credit cards with even better benefits.
Whether you have a credit score and if so whether you have a good credit score also determines eligibility for life investments. This includes renting your first apartment and financing a phone from a cell provider. 
For these reasons, the sooner you can begin to build your credit, the easier it will be for you to make future purchases and investments.
How do you build credit?
Credit can be built and improved in a number of ways. One of the easiest and most impactful to do so, however, is to pay off the debt put onto the card sooner rather than later. 
This can be easily accomplished by treating your credit card as a debit card, only spending the money you have. Make a payment using the credit card, and quickly afterward pay off the balance using cash or your actual debit card. 
Credit card companies also monitor the time in which you pay your bills using the card. Meaning, your credit card will be affected depending on whether you pay your bills on time or not. This is another way to both treat your credit card as a debit card and to pay off the balance.
By paying your bills early or on time, you are showing the credit bureaus that you're a responsible and diligent card owner. In return, you will be rewarded with an excellent credit score.
Get a Student Credit Card!
These are just a couple of quick and easy ways to  build a good credit score as a student. You most likely have enough debt as it is. Don't get a credit card to only just rack up more debt. 
Use your credit card wisely and to your advantage, finding the best credit card for you!