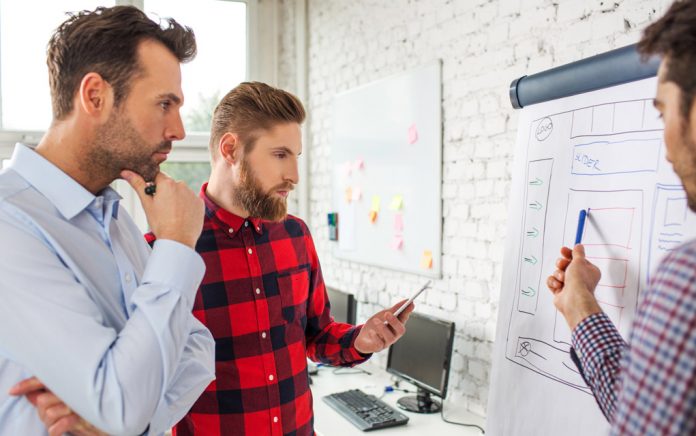 Many creative individuals are hesitant to attend college, but there are online learning programs that are perfect for thinkers as well as doers. There's no need to fear college will stifle your imagination; the right degree program can actually help you transform your creative ideas into a lucrative career. Find a fulfilling balance between memorizing data and thinking outside of the box when you enroll in one of these 5 degree programs at an online college.
Quick Read:
People with highly creative personalities benefit from a college degree just as much as anyone else. If you're looking for a degree program that lets you channel your creative thinking into something worthwhile, consider graphic design, architecture, marketing, interior design, or creative writing. Learn more about these five fun fields by reading on.
Put Your Creative Thinking to Work With These Five Artistic Careers
Graphic Design
As we continue advancing into the digital age, graphic design is becoming more prominent and important for organizations and their marketing strategies. If you have a love for art and drawing, combining it with computer knowledge in a graphic design program can help you make the most of it.
Bureau of Labor Statistics data shows that this is currently a competitive field. That means you may find it more challenging to get a job without advancing your skills. Skill, creativity, and dedication can help you create a winning portfolio that lands you the job.
Architecture
Architects are responsible for creating, planning, or troubleshooting building designs and structure design goals. In order to succeed as an architect, you must have an understanding of building structures and mathematics. Problem-solving skills, attention to detail, and a sense of creativity are also beneficial.
An education in architecture often takes four to eight years (or more). You start by taking on an internship; then, you receive the proper licensure after you obtain your degree. But you can start learning to become an architect right now at an online school. If you're the kind of person who has vision when it comes to design, explore this field.
Marketing
Marketers help companies develop revenue-increasing strategies; that's exactly why most degrees teach a combination of business and analytical essentials. Successful marketers are creative problem-solvers capable of brainstorming new ideas to bring in better business. In fact, being creative is a must for marketers who want to stand out from the crowd.
Love creating ideas? Always have the next best idea for getting the word out there about a great product or service? If you are confident in your ability to generate ideas and put them to use, marketing will allow you to flex those skills.
Interior Design
Have an eye for fashion or beautiful furnishings? You may have an inner interior designer waiting to emerge. There are degrees for varying levels of interior design available right across the country from brick-and-mortar and online schools.
As you might expect, interior designers come up with designs for the insides of homes and workplaces. But interior design can be every bit as intricate and esteemed as fashion design if you land the right job with the right company.
Some states require interior designers to become licensed before using a degree in the real world. Make sure you know the requirements where you live before you start school. This field also requires you to stay updated about changes within the industry, so expect life-long learning and creative exploration.
Creative Writing
Maybe you have the type of creativity that comes out of your fingertips through words rather than pictures or strategies. In that case, a creative writing degree can help you reach your full potential. Creative writers often go on to become web content managers, advertising writers, or editorial assistants. They may even become prolific authors like J.R.R. Tolkien or George R. R. Martin.
A creative writing degree serves your career in two ways: it helps you take your writing skills to the next level, but it also helps you become a better communicator. These are invaluable skills in our society.
If you feel like you're bursting with creativity, but have yet to tap or direct it properly, you can take charge of your future with online schooling. These five degree options let you channel all of that creative energy into productivity you can use after you graduate. Choose a career path you love and let your creativity shine.