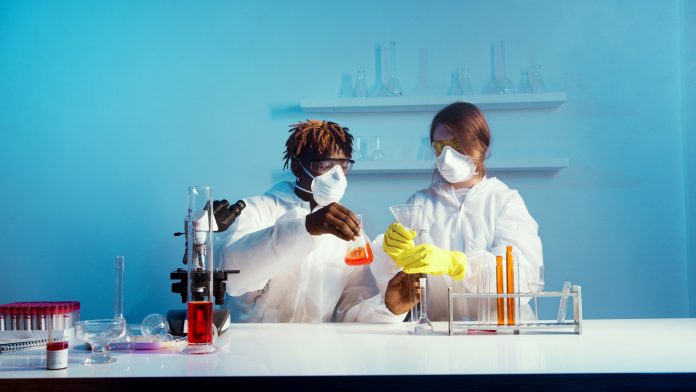 You've likely heard of white-collar and blue-collar jobs. White-collar jobs are usually in an office, while blue-collar jobs typically involve manual labor. So, what in the world is a new-collar job? 
A new-collar job is any position that doesn't fit into the white or blue-collar world. These positions require special skill sets but don't necessarily demand that workers hold a four-year degree. Self-taught software programmers often bring in big bucks despite never attending formal college. 
The popularity of these new-collar jobs is on the rise. It's also bridging the gap between white and blue-collar jobs to offer people non-traditional options. In fact, all six of these jobs pay big but don't require a college degree.
#1 Ultrasound Technician
Medical sonographers, also known as ultrasound technicians, can make a median salary of $70,380 each year. This job does require an associate degree, but you can complete it in under a year. It's also experiencing a 14% faster than average growth rate compared to other jobs. 
#2 Dental Assistant
You won't need a degree to be a dental assistant. On-the-job training can help fast-track you into this fun and exciting career, letting you earn up to $41,180 a year. This job is growing about 11% faster than the national average. 
#3 Pharmacy Technician
You only need a high school diploma to become a pharmacy technician. Yet, the median annual salary sits at around $35,100. The job growth for this one is 4% slower than average, which makes it more competitive. Still, the sheer necessity of the job makes it a relatively stable career choice with quite a bit of security.
#4 Web Developer
An entry-level web developer only needs a high school diploma to get started freelancing or working for an open-minded company. The median annual salary is $77,200, but the pay can actually range from $40,750 to $146,430 annually. This is another field that is growing 13% faster than average. 
#5 Project Manager
Project managers often manage projects for businesses that don't have the time or resources to handle them independently. With on-the-job experience, you can start in this lucrative position with only a high school diploma. A high attention to detail, organizational skills, and the ability to multitask will help. 
With the field growing 11% faster than average, project managers have plenty of jobs to choose from. Those positions typically pay from $56,880 to $169,070.
#6 Mortgage Loan Officer
A mortgage loan officer can get into the finance industry with only a high school diploma and related experience. This job offers a median annual salary of $63,960 and has a relative growth around 1% higher than the national average. 
New-collar jobs continue to grow in healthcare, technology, and manufacturing. These positions will offer more variety for workers, and in some ways, actually provide more security than a standard job. The choices won't just be the white-collar office spot or the blue-collar work involving manual labor. There will be an entirely new subset, each offering a fascinating career that includes emerging technology. Could a new-collar job be right for you?